When it comes to expressing an age preference, we always ask our members to remain open-minded. Many members are seeking an 'age appropriate' partner, however, sometimes people are looking for someone younger. Here, we discuss factors to consider when dating a younger partner.
1. Do You Share the Same Values and Priorities?
Where there is a substantial age gap, values and priorities may be different. For example, a woman who has already raised a family and is now career focused may not want another child. A younger man may be prioritising building a career and spending long hours in the office.
It is important to be open and honest about values and priorities early on.
2. Life Experience
Younger partners might not have experience of long-term, committed relationships. Emotional maturity is not necessarily linked to age, but it is linked to life experience. It is important to establish that both partners are mature enough to embrace a long-term relationship.
3. Commitment
Although the chemistry may be off-the-charts, eventually the question of genuine commitment needs to be addressed in any on-going relationship. Younger people may not have reached a place in their lives where they are looking for a happy-ever-after. They may still have plans to travel, study, launch a start-up and may be unable to make firm commitments.
It is essential to openly discuss where the relationship is heading in a supportive and understanding manner.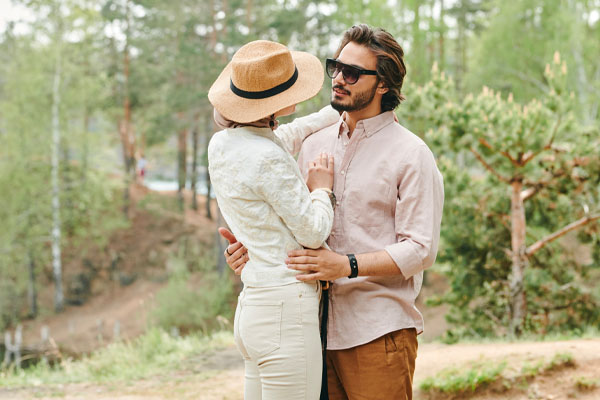 4. Outside Opinions
It is common for others to have opinions on age-gap relationships. Be prepared to face questions from family members and friends. If your relationship is healthy and happy explain that to others with a smile. Remember your loved ones are likely to just want reassurance that you have considered all of the above.
5. Is Age Just a Number?
Once we reach our mid-twenties, it can be said that age really is just a number. If you feel content and fulfilled by your relationship, there is no reason not to follow your heart. However, if the above considerations are put off at the start, they may become apparent later on, causing heartache and disappointment.
A healthy power balance is essential. For example, an older partner may be wealthier and more successful, this can cause an imbalance if used as leverage. Differences can be negotiated when both parties are comfortable being honest and emotionally vulnerable. Trust is key.
6. Remember, Your Peers Feel Just as Young as You Do!
Many people say they want a younger partner because they feel very youthful themselves. They worry that a partner of the same age will not be able to keep up with their energy levels. Here is the biggest secret in dating – everyone feels younger than they are, and everyone wants an exciting relationship based on sizzling chemistry and new adventures. Age does not make a difference.
There is much to be said for shared cultural references and similar goals. When two people with plenty of life experience and wisdom get together, the partnership can be truly dynamic!